FREE SHIPPING ON ALL ORDERS OVER $250! USE CODE FREESHIPPING AT CHECKOUT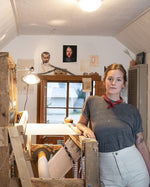 Framed Weavings
Regular Price

$3,900

Sale Price

$3,900

Regular Price

Unit Price

per
Folklore x Emelie Richardson framed weaving made with local churro wool. The wool yarns used in this series are locally sourced and hand dyed in Chama and Chimayo, NM. Natural dyes include madder, avocado pit, and black walnut.

Each piece is finished with a hardwood maple frame and UV-protective glass.

Price includes shipping & insurance
Receive $100 gift card if you opt for in-store pickup
Sun in the Morning
2022
26 x 32" Framed
Wool, natural dyes, maple frame
Same Dream
2022
26 x 32" Framed
Wool, natural dyes, maple frame
Mountain, Island
2022
26 x 32" Framed
Wool, natural dyes, maple frame
"This series is a continued exploration of relationships between body and landscape. Materials often play one of the largest roles in informing the imagery. The initial sketches begin when I have the materials in hand and can visualize the possibilities that come with combining specific textures, tones and weights. The sketches I start with and loosely refer to throughout the weaving process inevitably morph into new and different forms on the loom, and subtle shifts on the surface begin to reveal a deeper content. For me this is the most exciting part of the process – a surprising and rewarding relinquishing of control."
– Emelie Richardson
About Emelie Richardson
Emelie Richardson is a fiber artist whose studio practice spans painting and craft. Emelie earned a BFA from the University of Kentucky College of Fine Arts and currently lives in Chimayo, New Mexico, where she has apprenticed and worked closely with 7th generation master weavers for several years. While her practice is tied to Rio Grande weaving through technique, Emelie's work pushes the boundaries of traditional process and design. Her interests lie in speaking a visceral language, highlighting subtleties in material, surface and tonality. She explores and emphasizes unique relationships between painting and weaving, embracing chance and improvisation as enduring elements in the process. Imagery in her work often mimics the repetitive and meditative qualities of weaving itself. Other themes embedded in Emelie's work relate to sense of place and body/landscape relationships.